'Blue Beauty' Erigeron
Today's featured flower is 'Blue Beauty' Erigeron! Otherwise known as Fleabane daisies, these periwinkle blue flowers begin to bloom each June and continue flowering into the autumn. This perennial seems to spread fairly slowly, but it blooms reliably year after year.
It does not need any special care and can tolerate fairly dry conditions.
They make excellent cut flowers and dead-heading throughout the summer helps encourage this plant to continue blooming well into the fall. Ours occasionally gets leaf spots, but the flowers
are not affected & always look bright and pretty. Butterflies seem to love these flowers! You can learn more about 'Blue Beauty' Erigeron at GardenHelper.org or Peter Knippel's Nursery's 'Blue Beauty' Erigeron page.
Friday's Fab Five:
1. What book are looking forward to reading this summer?
Cassandra Clare's Clockwork Angel! I truly cannot wait to read that book! It feels like I've been counting down to August 31st for eons! :-)
2. Do you take a book with you when you go to the beach or pool?
Not usually. Since there are generally small children in tow, the pool is not a safe place for books that I intend to keep dry. I do read in the car on the way to the beach, but the book usually stays in the car when we head out to examine tide pools, build sandcastles, or fly kites.
3. Do you find you have more time or less time to read during the summer?
I always expect to have more time to read in the summer, but in reality I seem to have far less time to read in the summer.
4. Do you have an ereader and do you take that with you wherever you go?
I don't have an ereader yet, so no.
5. When you go on vacation in the summer how many books do you bring with you or do you prefer to pick one up when you are there or not to read at all on vacation?
I usually bring three or four books for myself and a tote bag full of books for the kids.
This fun meme is hosted by
Froggarita's Bookcase
.
Every Friday Froggarita asks five questions so we can all get to know each other better. The only rule is that you can't use the same answer twice within your five! Ready to play? Leave your answers in the comments or leave us a link to your own Friday's Fab Five post. :)
A few blog event notes:
1.
Candace of Candace's Book Blog is organizing a book drive for the Pine Ridge Reservation in South Dakota. I will be sending some books along to contribute, and I hope that some of you may be interested in contributing too. Please check out Candace's post about Pine Ridge Reservation here. Pine Ridge Reservation is among the very poorest communities in the US. The living conditions, infant mortality rates, unemployment levels, and average life expectancy on the reservation are similar to those found in Third World countries. The more I read about the Pine Ridge Reservation, the more urgently I want to help in any way that I can. Run a google or a youtube search for 'pine ridge reservation poverty' and it is difficult not to be moved by the statistics and reports you'll find (articles like this one & videos like this one).
You also can visit Friends of Pine Ridge Reservation's website to learn more about some of the ongoing projects to help promote literacy on the reservation and you can find more information about the "Build Your Own Library" project here and here.
2. The Once Upon a Read-A-Thon is coming up in a couple weeks (July 12th-14th), and we will be hosting one of the mini-challenges here on The Eager Readers! Can't wait! If you are interested in participating in the read-a-thon, please visit Pure Imagination, Reading Angel, or Candace's Book Blog to learn more about the fun three day event.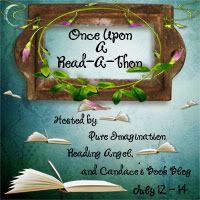 3. Our contests for Julie Kagawa's The Iron King and Jackson Pearce's Sisters Red end next Wednesday (June 30th), so be sure to check those out if you haven't already.
Happy Reading! :-)